As one can predict, everyone came late, after New Year's weekend, except me, of course! Hello again, I, the Jai Veeru Creative's CCTV camera, am here to tell you all the juicy gossip and inside news of the office. Vidushi, our designer, took a day off, " she must be still high from the weekend", Anoop, our samurai designer, suggested, and immediately clarified, "hehe.. well, I'm just guessing". What's said is said, and I will surely tell her.
This Monday, a new member joined us, Harman, our friend from next door. She had a day-off but still came alone in her office, weird right, even we wanted an off, *????????????*. Harman said, "My laptop is not working properly, I'm sure there is something strange about this office", she didn't even finish her sentence, and suddenly a creepy sound gave chills to our ears, we looked up, and the A/C switched on by itself. Not gonna lie, my eyes are always at duty, but even they couldn't explain this. The scariest part was a moment before we were discussing the haunting theories. Anoop indicated something we all didn't notice, all of this happening since Harman entered the office, and he began to ask questions to her, "Is she even Harman? Maybe the real one is at home and eating ice cream just like a normal person on a day-off"?.
Charu, the ninja developer/ Our Pubg Pro brought the iconic Gajar Ka Halwa, and Venkat's eyes lit up after seeing it. He quickly grabbed the box and said, "Keeping the dessert for the last", little did everyone know that's not gonna happen. Venkat kept peeking in the box and taking a bite like a kid, one after the other. We were okay with him eating the extra halwa as he brought chicken.????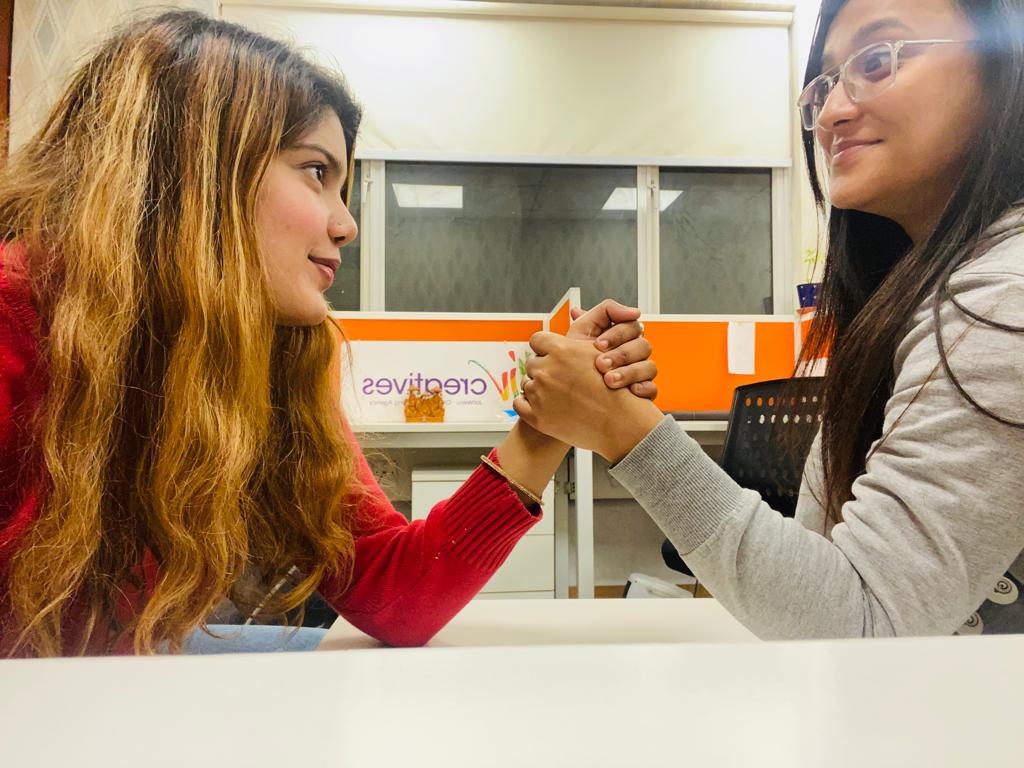 I must tell you there was the much-awaited Arm Wrestling Competition between Charu and Ausafh. At first, they were reluctant, but as they heard the crowd cheering, and betting on them, they agreed to fight the battle. The audience was cheering, the table moved to the centre, teams divided, everyone fixed rates on their fav competitor. I was supporting my Charu, you know, we have a history together. And then Venkat began the match by counting to 3, 2, 1. And both of them with a blaze in their eyes began hustling to win with all their power.
The first round was won by dadada *drum rolls* Ausafh…, and Charu insisted on re-match, claiming she didn't understand the rules at first. The 2nd round was won by dadadaa *double drum rolls* Charu. Now, The final round had to decide the winner. Venkat began the countdown 3, 2, 1. Both competitors in their forms, fighting to win the battle, at one sec Charu was winning, and another sec it was Ausafh. And in the last crucial moment, Venkat yelled, "Ausafh tumhe jeetna padega, tumhe meri kasam", as he would lose his money, and just after his words, Ausafh lost the round. And Charu became the first winner of the JV Arm Wrestling Championship 2022. Woohoo.. I'm eagerly waiting for the next.